The Central Committee of the Ho Chi Minh Communist Youth Union granted the 9th Luong Dinh Cua Award to 150 outstanding young farmers in Hanoi on September 27.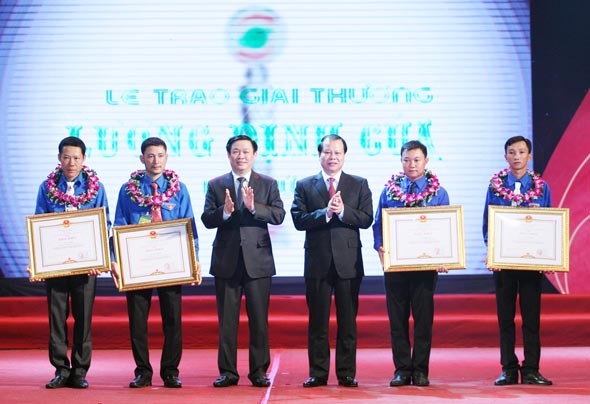 Deputy Prime Minister Vu Van Ninh (3rd, R) and head of the Central Economic Committee Vuong Hue (4th, R) offered the Prime Minister's certificates of merit to four outstanding young farmers
The awardees include 24 ethnics, one doctor degree, 22 owners of businesses in rural areas, and cooperative chairmen. Among them are owners of 35 production and trading modals yielding VND1-10 billion every year.
Stating at the awarding ceremony, Deputy Prime Minister Vu Van Ninh hoped that the Luong Dinh Cua laureates would be the main factors of emulation movements in good production and trading in the rural areas, contributing in the country's campaign of building new rural areas.
Besides, the organization board offered certificates of merit by the Prime Minister to four best young farmers including a Thai ethnic man, a bee farm owner in Tuyen Quang Province, a seafood entrepreneur, and a cooperative chairman in Ca Mau Province.