A Vietnam map was created with 1,500 students wearing blue uniforms standing on the Nha Trang beach Sunday to mark the start of this year's Vietnam Sea and Islands Week in the city.
The Paracel and Spratly archipelagoes were included in the breathing map on Nha Trang City's main square.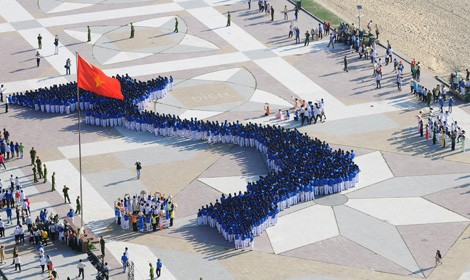 A Vietnam map made by 1,500 standing students on the Nha Trang beach on June 5, 2011 (Photo: Tuoi Tre)
The joining students stood hand in hand firmly on the April 2 Square to convey the meaning of Vietnam's territory.
Authorities of Nha Trang and Khanh Hoa Province, home to the city, organized the making of the living map.
After creating the human map, the students joined thousands of volunteers, locals and tourists in taking garbage off the beach.
The beach clean-up was part of the Vietnam Sea and Islands Week, which kicked off Sunday.
Also as part of the week-long event, the Nha Trang Institute of Oceanography has opened a showroom of the Paracel and Spratly marine resources.