The Ministry of Justice declared that about 150,000 Vietnamese women have married foreigners or Vietnamese who live abroad. These marriages connect Viet Nam with more than 50 countries throughout the world.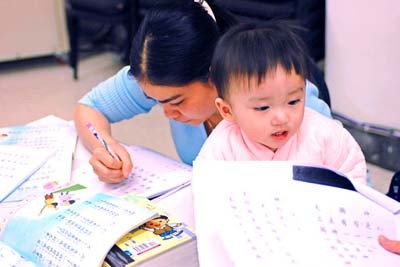 A Vietnamese wife living in Taiwan Territory studies in a Chinese class beside her son (Photo: Vietnam Net) 
In the hope of changing their lives, many poor women married Chinese men; others came from broken families and married foreigners to start a new life. 
Most of the women, more than 100,000 of them, are from Ho Chi Minh City and the southern provinces, and have married Taiwanese men.
While such international marriages have made some positive contributions to Vietnamese society, they are not all successful.  These women are facing increasing problems in countries like the Republic of Korea, Taiwan Territory, and China.
Many of the marriages were arranged illegally.