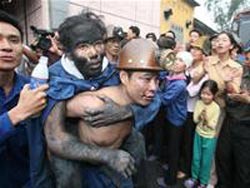 Worker Doan Van Bay is rescued from the water burst
At 3:10 pm on April 2, 2006, after 45 hours' searching, the rescue team found two last workers named Ngo Van Tuyen and Nguyen Kim Giang, who were stuck in the water burst in Mong Duong coal mine in Quang Ninh Province.
Those rescued were all tired; however, their eyes beamed with delight. "What a miracle! We even thought that we would never see the sunlight again", said Doan Van Bay, one of the victims.

Regrettably, Ngo Van Tuyen and Nguyen Kim Giang had died before they were brought to the ground.
In the afternoon, officials carried out a post-mortem on the bodies and brought the dead to their homeland for the burial.
The 17 survivors of the terrible disaster have showed some signs of recovery; many of them left for home.