The Investment & Industry Development Corporation (Becamex IDC) in the Southern province of Binh Duong inaugurated and put into use 1,700 apartments under the Dinh Hoa Social Housing project for workers and people with low income, yesterday.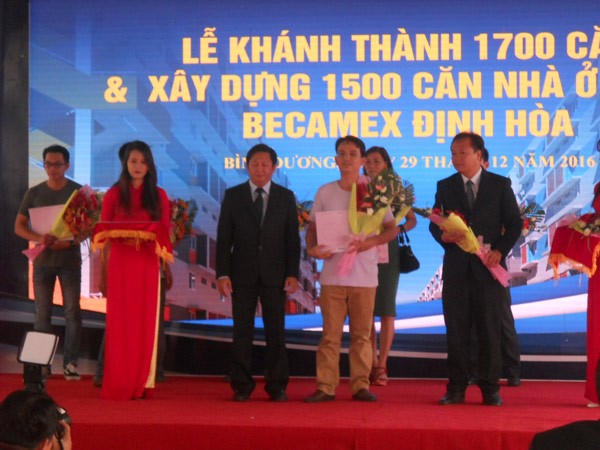 Becamex IDC inaugurated 1,700 social apartments yesterday
Secretary of Binh Duong Party Committee Tran Van Nam; Deputy secretary of Binh Duong Party Committee -Chairman of Binh Duong People's Committee Tran Thanh Liem, and Deputy minister of Ministry of Construction Do Duc Duy attended the event.
These apartments is part of the project's 2A phase built five floors with 20 apartments per each floor locating in Dinh Hoa Ward of Thu Dau Mot Town.
A 30- 60 s.q meter apartment costs around VND 100million to VND 600million. Over 1,000 clients who are workers and people with low income in Binh Duong Industrial Parks have registered to buy the apartments.
As per the plan, Becamex IDC has put into use around 7,000 social apartments for workers.
Mr. Tran Thanh Liem said according to the project which approved by the province in 2020, Becamex IDC will have to build 37 projects at areas of 155 ha with total apartments of 64,000 aiming to solve housing for 164,000 people
(meeting 20 percent of the provincial social housing program).
On the same day, Becamex IDC started constructing 1,500 apartments in the second phase of the Dinh Hoa social housing project and it is expected to be completed in 2018.