The country sent nearly 17,000 citizens to work abroad under labor export programs in the first quarter of this year, the Overseas Labor Management Department, under the Ministry of Labor, War Invalids and Social Affairs, reported April 2.
Malaysia and Taiwan continued to be the major employers of Vietnamese workers, with the latter now recruiting workers for factories and rest-homes, said the department.
These two markets do not impose high requirements on foreign guest workers in terms of foreign language or expertise.

The ministry also said it would work with its Taiwanese counterparts to boost the export of Vietnamese workers to Taiwan.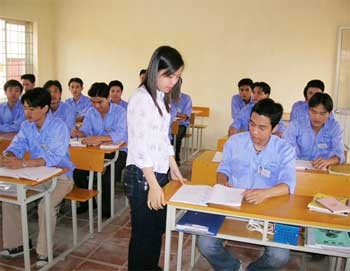 A Korean language class organized by the State-owned Labor Export - Trading & Tourist Company for Vietnamese workers to be exported to South Korea. (Photo: Tien Phong)
Meanwhile, South Korea will receive 12,500 Vietnamese workers in line with its Law on Employment Permit System (EPS), said Mr. Lee Myong Hee, chief representative of the Korea Human Resource Development Agency in Vietnam.

In addition, the United Arab Emirates (UAE), Qatar, Libya, and Dubai also have high demand for Vietnamese workers in such fields as security, construction, welding, mechanics, and services. In particular, Dubai needs an additional 4,000 security guards. 

However, these markets require skilled workers, so the Department of Overseas Labor Management is offering to support training for potential laborers in these fields.

With such encouraging signs, the country's target of exporting 85,000 workers this year is likely to be fulfilled, the ministry said.

Opportunities for poor laborers

The ministry also said it is stepping up efforts to export laborers in the country's 62 poorest districts, under Decision 71 issued last year by Prime Minister Nguyen Tan Dung.

Accordingly, over the past 10 months the ministry and labor exporters have worked with poor districts in 11 provinces to select workers qualified for the program.

Around 3,500 laborers have now been trained in foreign languages, occupational skills, and other knowledge necessary for overseas work. Around 1,600 trained individuals have been sent to Libya, Malaysia, UEA, Arab Saudi, Macao, Taiwan and Japan.

In the first quarter, 210 laborers in Lao Cai Province have been recruited and sent to Hanoi for training before traveling to Malaysia and Lybia for work.

During the past 10 months, 5,322 laborers in 43 poor districts of 16 provinces around the country have registered for overseas work. Of these, 4,806 workers have been short-listed for training.

Provinces that have sent the most workers include Thanh Hoa, Quang Ngai, Quang Tri, Quang Nam, Bac Kan and Quang Binh.