An old Chinese provincial geographic map showing Hainan island as the China's southernmost and not including Spratly and Paracel archipelagoes released by PhD. Mai Ngoc Hong is considered the latest proof of Vietnam's undeniable sovereignty over the two archipelagoes.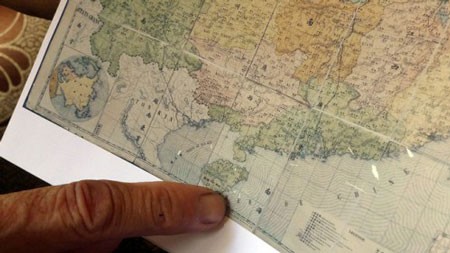 Dr. Mai Ngoc Hong points at Hainan Island in a 1904 Chinese map, which notes the island as China's southernmost tip.

PhD. Mai Ngoc Hong on Tuesday handed over the map of China issued by the Chinese Qing Dynasty in 1904 to the Vietnam's National History Museum.
The map called the Geographic Map of Provinces of Qing Dynasty displays the Hainan Island as the southernmost tip of China and does not include Hoang Sa (Paracel) and Truong Sa (Spratly) archipelagoes that belong to Vietnam.
Dr. Mai Ngoc Hong said that the map was firstly drawn by three European missionaries under Qing's Kangxi Emperor in 1708.
And then Qing's emperors grouped tens of missionaries and scientists to survey and collect valuable documents seriously and in large-scale, including Westerners such as Johann Adam Schall von Bell and Ferdinand Verbiest, in all of China's then 13 provinces.
Scientifically, the map is absolutely accurate because of sophisticated implementation, Dr. Hong affirmed.
The doctor said the colored-paper map was published by the Shanghai Publishing House in 1904 and the map had been preserved by the doctor for 30 years.
Dr. Hong is the director of the Center for Vietnamese genealogy studies
Vietnamese Historian Duong Trung Quoc said that this was a significant factor to confirm Vietnam's territorial sovereignty over Spratly and Paracel archipelagoes.
The offering the map by PhD Mai Ngoc Hong also encourages the Vietnamese people to be aware of searching and collecting documents and evidences on Vietnam's territory sovereignty over the archipelagoes, said the historian.
He also affirmed that Vietnam was on the major marine rout hence Vietnam used to be appeared in navigation maps of many countries such as Netherland, the UK, France, and Spain....
So we have to be responsible to searching and collecting documents and evidence to legally protect our sovereignty, he added.
Several historians have affirmed the map also proves that China had not establish it's sovereignty over the two archipelagoes before the beginning of the 20th century when the map was printed.
Lao Dong Newspaper quoted historian Nguyen Nha as saying that there was not any China's map published before 1909 comprised the two archipelagoes.
I have carried out many searches on sovereignty over Paracel and Spratly islands for many years and I can say that not only this map but also all China's maps publishes before 1909 do not embrace the two archipelagoes, he was quoted.
He said that the 1904 map had priceless information because it was released at the time when China had violators of Vietnam's sovereignty in the East Sea.
I challenge China's scholars to find any scientific proof to reject my confirmation, he added.