Two people died and three were seriously injured after a warhead exploded in Ham Thang Commune in Ham Thuan Bac District in the central province of Binh Thuan on Monday.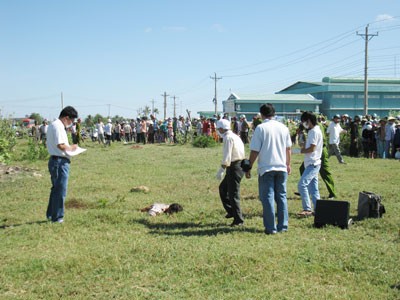 Body parts of an unidentified man scattered with the warhead explosion
An unidentified 45-year-old man was attempting to remove the gunpowder from an old 105mm warhead, when it suddenly exploded, killing him and a female passer-by and injuring four others in the commune yesterday.
The explosion tore his body and scattered body parts 10-50 meters from the spot.
At the same time, many vehicles passing the scene were also sprayed and splinters from the burst warhead hit two local women who were riding on a motorbike.
29-year-old Le Thi Thao Ly died on the spot, while 32-year-old Truong Thi My Linh was severely injured in the belly and was taken to the Binh Thuan General Hospital for emergency treatment.
The explosion also damaged windows of two cars travelling in close proximity, causing serious injuries to two drivers in their vehicles.