After a long Tet festival, the Department of Transport in the southern province of Dong Nai February 13 said over 200 passenger coaches are ready to pick up workers who return to work on comming days.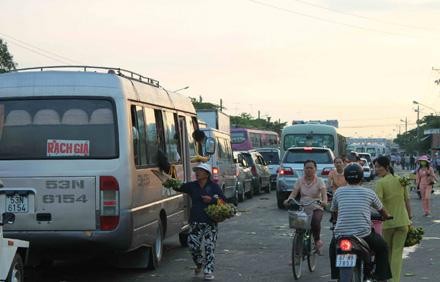 Serious traffic congestion in the Tien Giang province section of the National Highway 1A, in on Feb. 13, 2013.
The Department said that around 9,500 workers have signed contracts with bus stations that are responsible for picking up them back to work.
It is estimated that 250 coaches are needed to pick up all workers including 191 buses with over 7,000 seats for workers from the Northern and Central provinces.
Pouchen Company in the province has spent VND1.2 billion ($57,624) for 22 buses to pick up workers from the Mekong delta, the North and the Central back to work.

Bus stations in Hanoi have been very crowded since February 13 as enterprises, stores and service companies reopened after Tet holidays resulting in employees rushing to work. As many bus stations are operating, passengers can choose best service with soft prices and are not crammed in like sardine.

There is a paradox that meanwhile people back to Hanoi are satisfactory with bus stations and its service, people leave Hanoi for northern provinces got annoyed as they have to wait so long as buses drivers hope to have more passengers for a tour.

On that day, a severe traffic jam took place in the National highway 1A through Cai Be District of the Mekong delta province of Tien Giang. Thousands of vehicles were queuing along the road leading to My Thuan Bridge. Despite local traffic wardens' effort to ease the gridlock, it took more than 40 minutes to move on a 500m road.

The cause of the jam is due to An Huu Bridge 's narrowness resulting in a bottleneck in the center portion of the bridge. Transport authorities have asked people from the Mekong delta province of Vinh Long to take another road by getting on Dinh Khao Ferry to avoid the jam.