At least 200 people in Central Vietnam with complex disabilities are being given improved opportunities for a better life through funding from the Australian Chamber of Commerce in  Vietnam.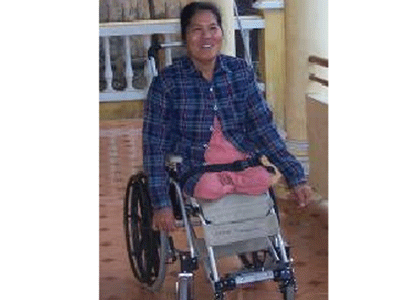 A disabled woman in Central Vietnam receives help from LSF
The Lifestart Foundation Disability Community Center aims to help at least 200 individuals in its first year of operation. Founded in 2000 by Australian Karen Leonard, the foundation, a grass-roots not-for-profit charity, aims to help disadvantaged Vietnamese people, and their families, to become self-sufficient.
Physiotherapy experts will provide detailed one-on-one assessments for individuals with disabilities who visit the centre.
Depending on their special requirements, they will receive a supervised rehabilitation exercise plan, as well as information on nutrition, posture and locally based services. In addition, referral to a local hospital for surgery or prosthetics will be provided for those who require complex medical treatment.
The AusCham HCMC event of the year 'Circus Spectacular' has funded the first years running costs and contributed towards the set-up costs of the centre. The Australian government also provides support, through their Direct Aid Program, by the purchase of three wheeled motorbikes.
Lifestart Foundation has been working with disabled people in the central province of Quang Nam for over 10 years, ensuring that they have their own sustainable income through the Lifestart Foundation Workshop as well as allowing independence and mobility.
The center will look at ways of improving their quality of life focusing on adults whose complex disabilities include Polio, war injuries, cerebral palsy and serious accidents.