Reports state that over 200 tons of Tra Catfish at Mr. Nguyen Van Tung's fish farm in Can Tho City's suburban district of Thot Not, died after being treated with insecticide by a relative of the owner.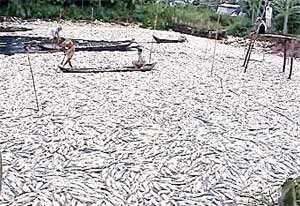 200 tons of Tra catfish die from insecticide poisoning

According to the report, when seeing the fish show some symptoms of sickness Truong Van Thanh, Mr. Tung's son-in-law, put Diptecide, an insecticide used on rice fields, and other chemicals into the fishpond, causing hundreds of thousands of Tra catfish to die.

Facing the situation, the owner decided to sell most of the dead fish to fish oil extracting factories at VND1,000/Kg, while 80 tons of poisoned fish were sold to the local markets. The remaining dead fish have been buried with lime powder for sterilization.

According to Mr. Bui Huu Tri, President of the Can Tho Association of Aquatic Product, Diptecide is an unauthorized insecticide that many fish farmers continue to use to try to cure their fish of any ailments.

Over the past year, the environment has been badly damaged by waste from aquatic product processing factories and fisheries, with the use of insecticides just making the situation worse.

This incident is a warning to the Tra and Basa catfish industry in the Mekong Delta. If fish farmers do not stop using toxic chemicals, the incident at Mr. Tung's fishery will not be the only case.