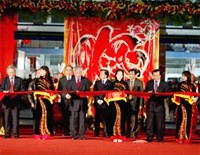 Deputy PM Vu Khoan is cutting the ribbon to open 2006 Spring Fair in Ha Noi.
The 2006 Spring Fair opened at the Viet Nam Exhibition and Fair Center in Giang Vo, Ha Noi on January 16. The fair attracts 950 biggest ever pavilions.

Consumer goods for Tet displayed and sold at the fair mainly include confectionery, food and foodstuff, beverages, garments, jewelry products, precious stone pictures, cosmetics, footwear, home appliances, etc. together with such specialties from various regions across the country as Hoa Binh "can" alcohol, Nam Roi grapefruits, Dien grapefruits, Bo Ha oranges, Bien Hoa coffee, Hai Hau high quality rice, etc.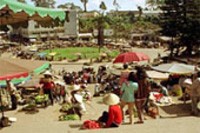 2006 Spring Fair in Ha Noi.
A goods quality inspection subcommittee has been set up to protect consumers' interests. It includes representatives of the Trade Department, the Science and Technology Department, the Health Department and the Market Control Branch in Ha Noi.
The subcommittee will frequently inspect quality, quantity, goods' origin, labels, packaging, food hygiene and safety of consumer goods at the fair.