This year, Vietnam has experienced many events, they are dark and bright points in a picture of the country's economy on its way to global integration. Over the year, ten events have been extremely important in shaping the habits of Vietnamese consumers.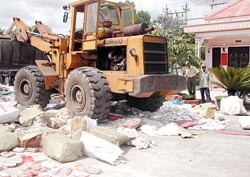 Contrabands are disposed (Photo: SGGP)
1. Decree 55: Regulation protects consumers from poor quality goods and services
Decree No. 55/2008/ND-CP, which took effect May 21 2008, gives instructions for the implementation of the Ordinance on Consumer Protection.
Aimed at providing a legal corridor to protect consumers' rights, this Decree specifies responsibilities of individuals and organizations engaged in the trade of goods and services, and procedures of complaints by consumers.
While the Law on Protection of Consumers' Rights and Interests makes its way through the National Assembly, this Decree contributes to the healthy development of the country's goods and service markets.
2. Complex tricks to inflate taxi charges
During 2008, many taxi companies that have cheated passengers were discovered. They fixed a Chinese-made device beneath the cab that makes the odometer's indicator rise when the horn is pressed. Each press will make the indicator increase by 2 kilometers.
Following a public outcry, many measures were taken by agencies to strengthen control the calculation of charges based on odometers.
3. Melamine tainted milk hits the country
September 2008, Chinese authorities caught Tam Loc Group, a leading producer and trader of milk, using melamine, a toxic industrial chemical used in plastic, in the production of infant formula. Investigations discovered another ten firms carrying out the same process.
The tainted milk made around 300,000 infants ill and created a panic in many countries, including Vietnam. Many other products were later discovered to contain melamine, such as biscuits, coffee, tea, chocolate candy, snacks and soft drinks.
Vietnamese authorities took prompt action. Melamine-contaminated products were quickly withdrawn from shelves, making it one of the first countries that become "the safe milk market" mid-December.
4. Petrol fraud
Methods of cheating gasoline measurement were discovered, with many practitioners having gone undetected for some time. They used chips or other devices to reduce the petrol actually sold to consumers.
Total losses to consumers amounted to hundreds of billions of dong, according to relevant agencies' estimates.
The Vietnam Consumers Protection Association has asked agencies concerned to impose strict punishments, even criminal prosecution, on those people, including accessories, who cheat customers.
5. Toxic alcohol claims lives
After deaths caused by drinking toxic alcohol, health agencies made inspections and found many alcoholic products that contained dangerous levels of methanol.
In HCM City, the Health Department found some businesses producing alcoholic products that contained methanol 400 times higher than the legal limit of 0.1 percent.
As much as 90 percent of alcoholic products produced by individual business households contained toxic substances, said the Department of Food Hygiene and Safety under the Health Ministry.
6. Fake medicines and GPP: Two challenges to the health sector
This year saw Interpol ranking Vietnam as Southeast Asia's second leading country in the circulation of fake medicines.
Despite preventive efforts by relevant agencies, fake drugs in large quantities have been smuggled into Vietnam. This is a great challenge for Vietnam to protect public health.
This year also saw the implementation of Good Pharmacy Practices (GPP) to better control medicines on the market, the quality of medicines and the supply of medicines.
According to the Health Ministry, the GPP model will be applied to all pharmacies across the country.
7. Ban on using substandard helmets
The regulation, effective since late 2007, which stipulates that every one must wear helmets when traveling by motorbikes has become a major issue this year. The quality of helmets is a concern for all users.
The Ministry of Science and Technology has drawn up regulations on required standards for helmets, including weight, size, structure and technical parameters.
Riders cannot wear any helmets that do not meet these standards, or are made unsafe by being a fashion accessory.
8. ATM fees
The policy by commercial banks to impose ATM fees has received a backlash from the public.
Banks said that the ATM fee would create a source for them to invest in technologies and equipment that serve ATM users.
Most users have opposed to the fee and some have said they will not use ATM cards if the fee is applied.
The governor of the State Bank of Vietnam decided to postpone the fee until next year, when a more suitable roadmap will be drawn up.
9. Groundless rumors and their impacts
Many baseless rumors were created this year, causing instability for the goods and services market and affecting the lives of people.

One such rumor was "a shortage of rice", which triggered a large rush to buy rice at a price that was three or four times higher than normal, creating virtual rice fervor.
Other rumors included "tax on cars", "increased prices of oil and petrol" and "prices of building materials".
The Prime Minster has ordered relevant agencies to make known to the public all governmental policies and official information about prices, market, and demand-supply of essential commodities.
10. Contraband and fake goods
Despite great efforts by relevant agencies, the number of fake, imitated and contraband goods shows no signs of decline. This is especially important at a time when the country is about to open up all retail markets due to WTO commitments.
Experts say that next year will see fierce competition between Vietnamese producers and their rivals. Therefore, if local businesses do not comply with regulations on copyrights, do not improve their product quality or do not show respect for legal trade, they will face many risks in the coming future.
Fake and contraband goods are great challenges to the country as it further integrates with the global economy.