The Department of Culture, Sports and Tourism in the southern province of Dong Nai has announced the discovery of a mummified woman in an ancient tomb in Cau Xeo commune in Long Thanh district.
The department was excavating an ancient tomb site for clearance, to facilitate construction of the Ho Chi Minh City-Long Thanh-Dau Giay highway road, when they unearthed the 200-year-old mummy.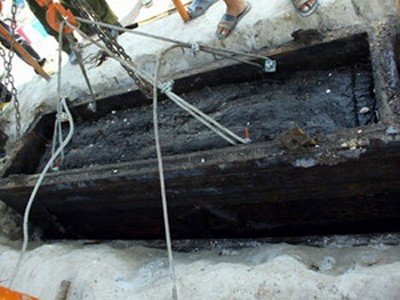 The coffin containing the mummy excavated in Dong Nai Province on September 16, 2011 (Photo: Dong Nai Newspaper)
The excavation team was led by Professor Pham Duc Manh from the University of Social Sciences and Humanities Ho Chi Minh City and renowned archeologist Do Dinh Truat. The mummified remains of the woman as well as its coffin have been preserved and brought to the museum.
Scientists said that the tomb had a secretive rectangular chamber. The tomb was 8.5 meters long including its wall and 4.5 meters wide. The coffin was shaped like a semicircle. It was adorned with a floral patterned cloth and the mummy was wrapped in cloth of a lotus leaf print.
After studying the structure of the tomb chamber and the coffin, archeologists came to the conclusion that the mummy was of noble birth during the Nguyen Dynasty.
Archaeologists will now conduct further research on the mummy along with medical experts from the University of Medicine in HCMC.