In Ho Chi Minh City, the Vietnam Network of People Living with HIV/AIDS (VNP+) on May 22 presented the 2015 Red Ribbon Awards to winners who have innovative and outstanding community works in response to the AIDS epidemic.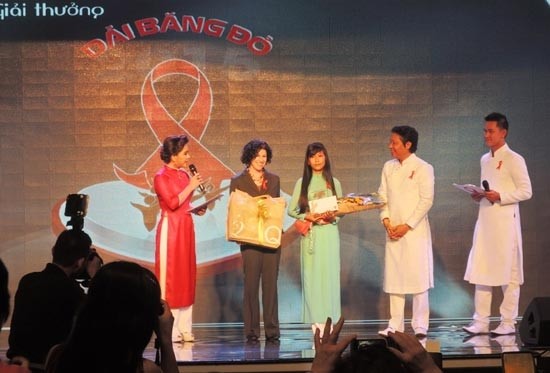 At award ceremony
The Red Ribbon Award aims to honor people for their inspiring work in reducing the impact of the AIDS epidemic and fighting discrimination against people living with HIV/AIDS.
The award includes categories, "Contribution" for individuals, "Accompanying" for artists and "Success" for people infected with HIV who have outstanding works in the prevention of HIV/AIDS transmission, and "Rise" for children living with HIV have the capacity to study, grow up and live well.
The red ribbon is a global symbol in the movement to address AIDS. The Red Ribbon Award, presented every two years at the International AIDS Conference, is designed to honor and celebrate community based organizations for their outstanding initiatives that show leadership in reducing the spread and impact of AIDS.
The Red Ribbon Award was first given in 2006 and has recognized 85 organizations from over 50 different countries since then as leading community-based responses to AIDS.