Dr. Hans-Dieter Stell (Photo), Consul General of the Federal Republic of Germany in HCMC said at a press meeting held on January 12 at German Consulate General Office in HCMC.
Consul General Stell also expressed that the year 2015 was a successful year to both countries as two sides celebrated the 40th anniversary of diplomatic relationships. In HCMC, German Consulate General launched a series of activities to mark the important event.
In development relationships and partnerships, German Consulate General in HCMC will continue to support Vietnam in the 2015 key projects such as training programs, Metro line 2, Vietnam-German University and the construction of German House in the very center of HCMC…

For years, both countries have focused on development cooperation in the fields of vocational training, environment protection and green growth strategies. Among them,
German House is to contribute to fostering economic trade and culture between Germany and Vietnam.
"The 25 storey building covering an area of 40,000 s.q meters on Le Duan Street, District 1, is expected to be completed the construction in summer 2017 and it will be a place for German and Vietnamese people to come together to share experiences through exhibitions, seminar and conferences", added Dr. Stell.
The Metro line 2 and Vietnamese -German University in HCMC are major projects which Germany expects to boost and strengthen the relations between two countries in 2016.
Mr. Stell believed that the year 2016 will open more opportunities for European investors including Germany, adding that as Vietnam government improve its legal framework to create more favorable investment environment.
Looking back nearly three year mission in Vietnam, Dr. Stell said he hoped to stay as long as possible in Vietnam. He traveled almost over 30 provinces and cities in the country to eye local people's lives. To him, Vietnamese people are very friendly and hospitable and open-minded. They love to work and to enjoy their live. He always felt at home in Vietnam.
Consul General Stell also shared his experiences about Tet that the Lunar New Year festival is a wonderful tradition as it brings family members together from all over the country. I love this tradition which reminds me of Christmas in Germany-also an important religious family event.
Before the New Year, I went together with my wife to many invitations given by Vietnamese friends and partners.

"HCMC is very dynamic over the year, but at Tet, it is very quiet, the streets are nearly empty – therefore, I take out my bike and enjoy the big city by riding my bike the whole day! To all SGGP readers my best wishes to Lunar New Year" he concluded.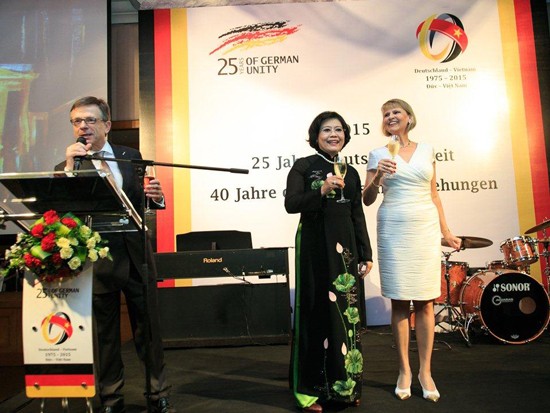 German Consul General at 25 years of German Unity held in HCMC in 2015.