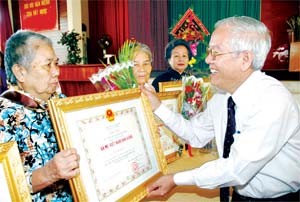 Chairman Le Hoang Quan congratulates one of the Vietnamese Heroic Mothers at the ceremony
24 women were conferred and bestowed the title "Vietnamese Heroic Mothers" for their contributions to the protection and construction of the country in a ceremony held by Ho Chi Minh City Committee of the Party, People's Council, People's Committee and Fatherland Front Committee Saturday.
City's People's Committee Chairman Mr. Le Hoang Quan gave them credit for the national struggles and affirmed that the young and later generations today pay tribute to them.
The leaders celebrated the ceremony to honor the mothers' contributions and sacrifice for the country.
Mr. Quan also asked the local governments to continue looking after the living mothers and those who rendered service to the country and building houses of gratitude on this occasion.
Among the 24 women, 19 are bestowed posthumosly and 5 are still living in Districts Cu Chi, Hoc Mon, Can Gio and 11.

Currently, 1,916 heroic mothers lives in Ho Chi Minh City. Benefactors in Ho Chi MInh City have taken care of and supported many of them for the rest of their life.