The Government has approved Quang Nam Province's plan to officially takeover a joint Vietnam –South Korean peace village project, with US$2 million being funded by the Korean Disabled Veterans Organization, said the Government Office August 31.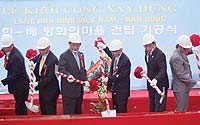 Construction of the Vietnam – South Korea peace village starts in December 2008
VND4.2 billion has been set aside from Quang Nam's budget to clear the ground and disarm mines for the project.
The project is to be built on an area of 2,800 square meters, which will include a job training center, a hospital, a restaurant and other facilities.
Once completed, the village will be used as a rehabilitation home for around 80-100 disabled veterans and their children who are suffering from the side effects of chemicals used during the war, such as dioxins and defoliants.
The construction of the project started on December 16, 2008.
The project is scheduled to be complete by this year.