According to the organization board of national anniversary ceremonies, around 30, 000 Vietnamese people will take part in a massive parade at Ba Dinh Square in Hanoi on September 2 to mark the 70th anniversary of the August Revolution (August 19) and National Day (September 2).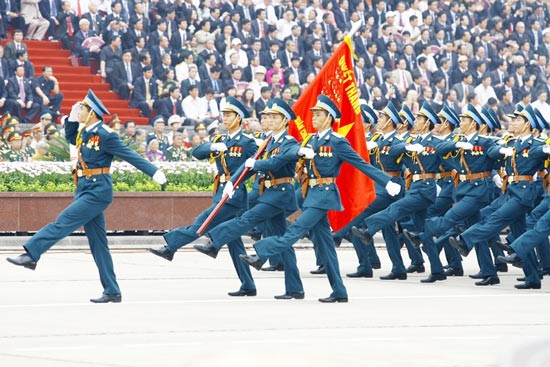 30,000 people will join parade on National Day (September 2). (Photo:SGGP)
The massive parade is scheduled to commence at 7am on September 2, and be broadcasted live on Vietnam Television, Radio Voice of Vietnam and Voices of local.
Ministry of Defense will fire 21 gun salutes in the area of the Imperial Citadel of Thang Long while saluting the national flag at 7:10 am on September 2.

People's armed forces, polices, militiamen, war veterans, businessmen, youth, women and ethnic minority people will attend in the parade from Ba Dinh square and across city's street. First direction will be from Nguyen Thai Hoc-Kim Ma-Lieu Giai, and the second direction towards Nguyen Thai Hoc-Hang Khay-Trang Tien-Opera House, added organizational board.

In addition, artists, artisan, students and armed forces will take place an art performance.
Deputy Minister of Information and Communications Truong Minh Tuan said that the event attracts more international and domestic press agencies. Until now, over 700 reporters from 115 press agencies at home and 87 foreign journalists have registered to write related news to the event.
During the event, many cultural, art exchange programs and exhibitions will be also organized such as science workshop of "the 70th anniversary of August Revolution" and "the National Day- Achievement and Development", exhibition of socio- economic achievements and others.