Torrential rain continued pummeling the northern province of Quang Ninh after a brief abatement on Tuesday, leaving VND1 trillion (US$45.83 million) in property damage and 30 people dead and missing, said the province People's Committee.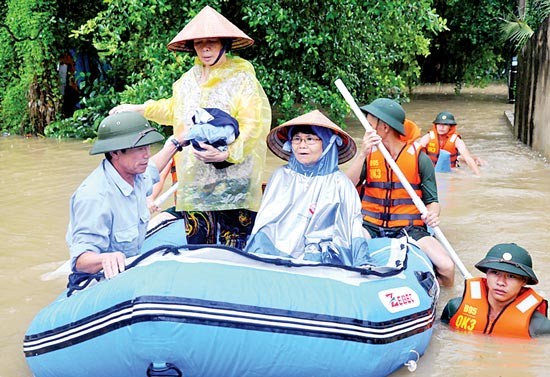 Military soldiers evacuate residents to safety (Photo: SGGP)
Of these, Quang Ninh alone has seen 15 dead and eight missing, the other seven missing come from Thanh Hoa province.
The provincial Steering Committee for Search and Rescue reported 750mm precipitation on Tuesday, it reached 800-828mm in island district Co To and Cua Ong ward in Cam Pha city. About 1,500 tourists have got stuck in the island and been safe.
The heavy rain has caused badly landslides and flashfloods in the province. Highway 18 was inundated under floodwaters with many alongside areas having been marooned.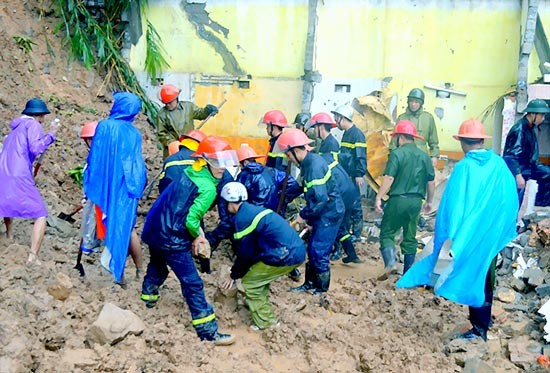 Rescuers take victims out from a landslide's debris in Ha Long city (Photo: SGGP)
Long lasting downpour triggered landslide to bury three houses in Cao Thang ward, Ha Long city. Many residential areas were stranded in Ha Phong, Cao Thang, Ha Khanh, Viet Hung and Bai Chay wards.
Similar condition occurred in Quang Hanh, Mong Duong and Cua Ong wards in Cam Pha city, local authorities have mobilized 1,700 rescuers to evacuate over 1,000 households to safety.
Water supply pipes of Dien Vong plant have been broken in the two cities.
Island district Van Don has suffered worst with 880 damaged fishing rafts worth VND88 billion (US$4.03 million). Total losses are estimated at VND123 billion (US$5.64million) in the district.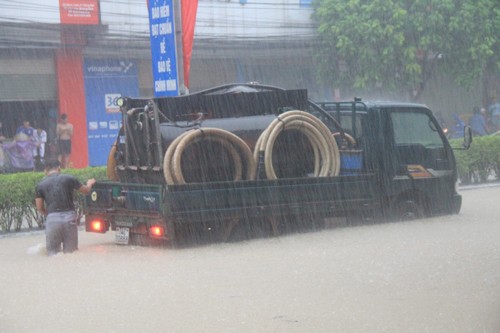 A long lasting downpour has caused heavy damage in Quang Ninh province (Photo: SGGP)
Quang Ninh authorities have halted all meetings while military force has joined hands to seek for the missing men, displace residents from dangerous areas and provide them with food, water and other necessary items, and repair landslide spots.
The provincial People's Committee has allocated VND15 billion (US$687,000) from its standby budget to Ha Long city, Cam Pha city and Van Don district for repair works in the aftermath of the flooding.
The National Hydro Meteorological Forecasting Center said that torrential rain would continue pouring down in Quang Ninh and spread to other provinces in the northern region such as Nam Dinh, Hai Duong, Hung Yen, Lang Son and Bac Giang.
The northeastern part of Vietnam should watch out flash floods and flooding, it warned.
Rains will cover the entire northern region from July 31 to August 3.

Related article:
Three killed in Quang Ninh 40 year record downpour