A Viet Nam – APEC trade fair, the first major activity for this month's Asia Pacific Economic Cooperation summit, opened in Ho Chi Minh City's Tao Dan Park on Saturday.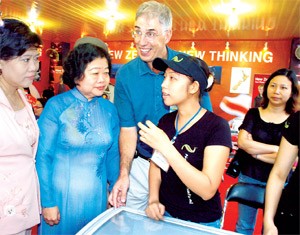 Mrs. Hoa (C, blue dress) attends the fair
The event, which runs until November 19, gives the 300 participating Vietnamese and other companies in the APEC grouping an opportunity to introduce their products and services as well as boost cooperation, technology transfer and marketing.
There is an abundance of goods on show at the nearly 700 stalls, things like materials, agricultural and consumer goods, medical equipment.
As part of the fair program, a meeting has already been held where Vietnamese exporters learned about better ways of doing business with American firms.
More than 1,000 students including teams from 18 universities and colleges in Ho Chi Minh City attended the opening ceremony, as did Viet Nam's Vice President, Truong My Hoa.