Thirty five people have died and nine remain missing in the flooding caused by Typhoon Mirinae, authorities in central Vietnam said.
In Phu Yen Province, 19 died and three others are missing; in Binh Dinh, five died and two are missing; in Quang Nam, two died; in Gia Lai, four died; in Khanh Hoa, four died and four are missing; and in Ninh Thuan, one died.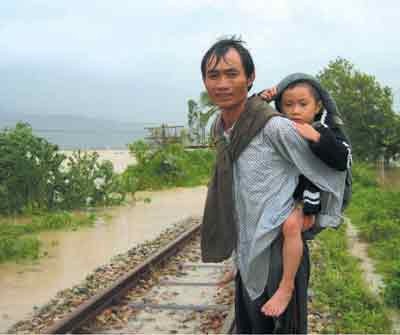 Ho Ngoc Ha of Quy Nhon carries his child to the railroad for safety on November 3 ( Photo: SGGP)
In Phu Yen, 16 others are injured while 341 houses were either flattened or saw their roofs blown away.
But all the figures are likely to increase, with residents saying more people have died in the floods.
Traffic on roads has slowed to a crawl due to the relentless rainfall and 3,500 passengers are stranded in the province, waiting for the flood to recede to resume their journey.
Floods and tidal waves have isolated Xuan Binh, Xuan Loc, Xuan Yen, Xuan Phu, Xuan Dai, and Xuan Thanh Communes.
Roads in Tuy Hoa city look like rivers. There has been no power in the city since November 2 since many electric poles have been uprooted.
Hundreds of residents in Tuy An District had to be evacuated to safety shelters after the area was inundated by seawater.
The province's rivers are forecast to swell to dangerous levels, the Song Ba Ha hydroelectric plant reservoir has been releasing excess water since November 3, threatening to worsen the floods caused by the typhoon.
In Binh Dinh, houses along Highway 19 are under a meter or more of water. Residents grabbed some essential items before moving to higher places for safety. Le Kim Quyet, who spent a sleepless night on the railroad track November 3, said she has not seen such massive flooding since 1976.
The province Steering Board for Storm Prevention sent an emergency dispatch November 3 to the Government and military asking for helicopters to rescue people. The Region No.5 military dispatched the choppers the same day with relief materials enabling the rescue of several marooned people.
Two days of torrential rains caused landslides on a stretch of Highway 24 in Quang Ngai heading towards Kon Tum, destroying sections.
The Tra Khuc and Ve rivers are flowing at a meter above warning level three and have inundated thousand of homes in Quang Ngai city and Tu Nghia, Mo Duc, and Duc Pho Districts. Son Tay District remains cut off.
A crack that has appeared in B'Lo mountain in Quang Nam's Tay Giang District threatens the lives of hundreds of people living nearby.


All 12 foreign crew members on a Cambodian ship carrying 2,600 tons of rolled steel from China's Huangpu to Ho Chi Minh City were rescued after their vessel sank off Da Nang on November 3.

The previous night the Da Nang Border Guard Unit received an S.O.S. from the Lucky Dragon after a fire broke out on its engine deck while it was sheltering from Typhoon Mirinae on My Khe beach.

The city responded by immediately sending a rescue vessel though rough seas threatened to thwart the rescue effort. But the crew comprising eight Chinese and four Myanmar nationals were saved before the ship sank 100m from shore.

They are in good shape and city authorities are trying to contact their country representatives and the ship's owner.