As many as 16 remaining boats carrying 362 people are brought home with the help of naval ships. These ships are due to arrive in Da Nang on May 25.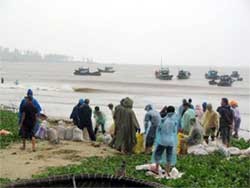 Fishing ships carrying tens of survivors are returning

68 more survivors return home
A naval ship HQ 628 carrying 3 bodies and other 27 survivors is due to return to Han River port in the morning of May 25. Meanwhile, the ship Truong Sa 20 with the assistance of Quang Ngai boats are returning to Da Nang.
All 33 fishermen rescued on the previous day were making remarkable recovery and released from hospital on the same day, said Doctor Trinh Luong Tran, Director of the Da Nang Health Department.
Of 15 deaths reported on May 23, up to 13 have been identified immediately on the rescue ships. However, only 12 of the identified bodies were claimed by relatives. Thus, three remaining bodies are being kept in frozen condition in Da Nang Hospital and waiting for the result of DNA profiling. The three remains will be buried in Da Nang Cemetary if no relatives come forward to claim them.
The Da Nang Rescue Center is publicly appealing to relatives of victims from typhoon-affected areas to come forward to identify the body of their loved ones.

Other three fishing vessels of Da Nang, namely DNa 90345, DNa 90299, DNa 90127 and carrying 68 people in total arrived at in Da Nang in the evening of May 24.

All the 68 survivors were immediately given a health check after the ships landed at Da Nang port. They remained in good health and were allowed home on the same day. The three vessels had conducted rescue operation and move 15 dead bodies to two other rescue boats on May 23.
All up, as many as 16 remaining boats with 362 people are brought home with the help of naval ships. These ships are due to arrive in Da Nang on May 25.
Over 220 fishermen remain missing
Another report said that up to 142 people in Da Nang remain missing, only 11 of them have been identified as people of Thang Binh District.
An official announced that a number of 21 people out of 43 fishermen in 5 sunken ships have landed in Quang Ngai. The 17 survivors and a dead person are being brought home. The five ships will come into the Sa Ky port by 10 am of May 26.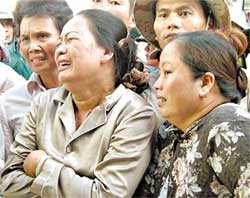 "I hope my husband will come back."
Quang Ngai affirmed 21 still missing, meanwhile, Da Nang lost contact with 60 fishermen. That means up to 223 people are reported missing so far.
Throughout the night of May 23 and till the morning of May 24, hundreds of residents were anxiously waiting for their family members at the Da Nang port. They had been here for several days with little hope to see their loved ones return.
A woman with a gaunt face resulted from many sleepless days, cried: "I hope my husband will come back. I believe that he still survives because many people from his boat are coming home." She will stay here to wait until the last boat, she said.
Related Articles:
Assistance for Victims To Overcome Damages of Typhoon
Over VND90 Million Donated to Typhoon Victims
President Tran Duc Luong Sends a Message of Condolence to the Typhoon Chanchu's Victims
State President Tran Duc Luong Sends a Message to Thank Chinese President Hu Jintao
China Rescues 330 Vietnamese Fishermen
Sai Gon Giai Phong Newspaper Raises Funds for Typhoon Chanchu Victims
General Secretary Sends Condolences to Typhoon Victims' Families
Central Vietnam Fishermen Return from Storm
Central Viet Nam's Fishermen Affected Most Seriously