Twenty-six people have been reported dead and 11 missing after three days of flash floods and landslides in the northern mountainous provinces of Bac Kan, Lai Chau, Ha Giang, Cao Ban, Son La and Lao Cai, according to reports updated Monday.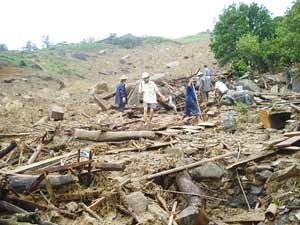 A corner of flood-hit Cong Bang Commune in Pac Nam District, Bac Kan Province on July 6
According to the Central Committee for Floods and Storms Control, the landslides and floods destroyed or damaged more than 500 houses and thousands of hectares of crops. Many irrigated fields have been flooded and many kilometers of roads washed away.
The National Center for Hydro-Meteorological Forecasts has warned that heavy rains may keep battering the north.
On Monday, Prime Minister Nguyen Tan Dung asked the six affected provinces' administration to mobilize all forces in the search for missing people, to take care of the injured and re-establish links with isolated areas so that people can be evacuated, treated or given supply of food and water.
In the provinces, local authorities have provided financial support of VND2 million (US$118) for each family facing hardship.
Vietnam Red Cross has presented out VND200 million (almost 11,800) and containers of necessities for the hardest-hit provinces of Bac Kan, Cao Bang and Ha Giang.
The Ministry of Health delivered medicine, decontamination chemicals and other vital supplies to the affected provinces.