Robbers broke into a jewelry shop in the central province of Ha Tinh on Wednesday afternoon, and made off with about 4 taels of gold, reported the local police.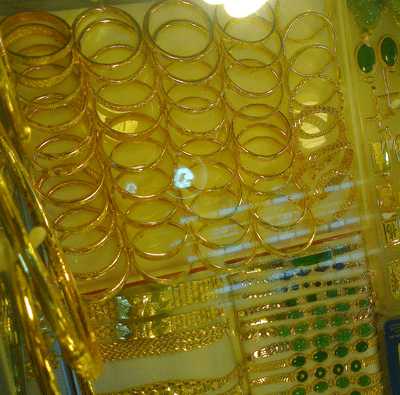 Photo of a gold jewellery counter in a shop (Photo: U. Phuong)
According to witnesses, at the time of the robbery it was raining cats and dogs. Taking advantage of the deserted streets, two young men wearing helmets and facemasks parked near a wall towards the gold shop Kieu Ngoc on Dang Dung Street in Ha Tinh City.
The man sitting behind stepped into the shop and asked the price of a ring. While the shop assistants were busy serving him, he withdrew a hammer from his jacket pocket, smashed a glass counter, grabbed some gold items and ran outside to join his accomplice who was waiting on the motorbike.
Shop assistants shouted for help and many residents gave chase also, but the two men were quick and soon disappeared in the crowded Phan Dinh Phung Street.
According to initial information, the robbers took away around 4 taels of gold (a tael weighs around 37.5 grams) which included rings, necklaces and earrings.