A big blaze swept through a Vietnamese-owned clothing factory located near the Cherkizovo market in Moscow, Russia, in the early morning of April 7, killing four Vietnamese people. A Russian and a Tajik were also killed in the accident.
The Vietnamese Embassy in Russia has sent staff to the location to meet representatives of Russian relevant agencies and seek ways to give timely assistance to the Vietnamese victims.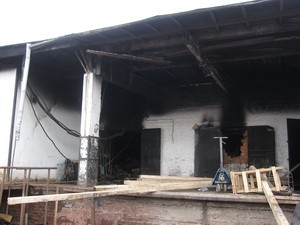 The accident scene
The victims later were identified as Hoang Thi Que, 24, hails from Dien Chau district, Nghe An central province, Huong from Bac Giang northern province, and Thien, 26, and Triu, both coming from northern province of Thai Binh. The victims were helped by the Embassy in incinerated and brought bone-ash home.
Local police said short circuit had caused major fire in the factory.
In another development, the Vietnamese Government is very interested in its citizens who are living in Ivory Coast, spokesperson of the Foreign Ministry Nguyen Phuong Nga said yesterday.
In response to reporters' queries about the situation of the Vietnamese citizens in Ivory Coast amidst increasing conflict and violation in the African country, she said, "The Foreign Ministry has instructed the Vietnamese embassy in Morocco which is in charged of Ivory Coast and Vietnamese representative offices in regional countries to promptly get information on the number and situation of citizens in Ivory Coast in order to provide timely assistance."