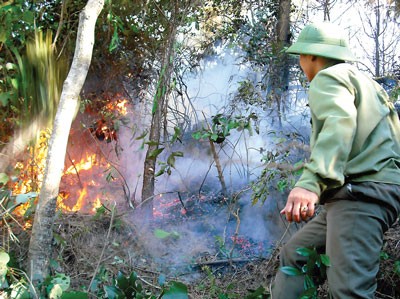 A forest ranger tries to put out the fire in Lien Chau Hamlet in Duc Lien Commune on July 3 (Photo; SGGP)
Forest fires in the central province of Ha Tinh were temporarily under control July 3, said Mr. Han Duy Anh, Deputy Manager of Forest Protection Department.
On July 1, a fire in the forest of Mau Cave was discovered and spread to the neighboring area of Khe Mac Cave.
The area has planted pine woods paid from an ODA project.
Despite being momentarily extinguished at 8:30am on July 2, due to gusts of hot and dry western winds from Laos, the fire came back to life late afternoon and spread.
Eventually, the first was put out early morning on July 3, with estimates of more than 30 hectares of forest completely destroyed.
Later the same morning, another fire burst into flames and spread out quickly.
Workers from Huong Khe Rubber, forest protection officers, the army, the police and the local government, as well as members of the public urgently tried to extinguish the fire.
At 1.30pm, it was finally under control.
Initial estimates of this particular fire were about eight hectares of forest destroyed, creating a loss of nearly VND200 million (US$11,200).

A further fire was discovered in nearby Duc Lien Commune at 3pm, but was put out after more than an hour thanks to the timely discovery.