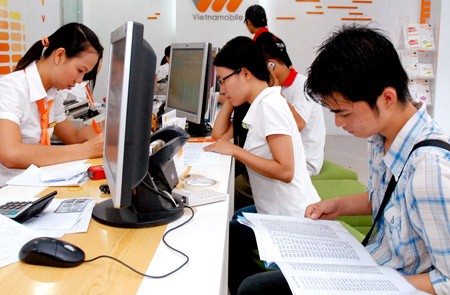 Clients choose mobile numbers at an agent. (Photo: SGGP)
As regulations on controlling pre-paid cell phone subscribers has been in place for one month, cell phone service providers have been urgently checking registered information of pre-paid clients on their networks, which must be done by the end of this year.
According to data by the military-owned service provider, Viettel, around 20 million numbers on its network are required to provide personal information again, as mobile agents have registered the same personal information for many mobile numbers.
Viettel found 9,171 out of 181,059 multipurpose SIMs, which had been given to its agents for prepaid mobile subscriber registration, had provided incorrect information for 457,227 numbers.
It has fined agents and subscribers who have violated their contracts to the tune of more than VND4.75 billion.
Vinaphone, one of Vietnam Posts and Telecommunications Corp.'s two subsidiaries, said it severed agreements with 4,836 offending agents, out of around 20,000 agents.
Mobifone also said that it was verifying its clients' information and would stop cooperation with any agent violating regulations.
The Ministry of Information and Communications allows people to have as many as three numbers for each cell phone service supplier. Any person who has more than three numbers from a supplier is required to register personal information again by the end of this year.
There are around 90 million active cell phone numbers in Vietnam, of which prepaid numbers account for 90 percent.
Service suppliers estimated that at least 40 million numbers would have to be registered again as the registered information does not match the users.