A mass requiem was held yesterday in the central Quang Ngai province's Son My village to pray for the 504 unarmed civilians who were killed by US soldiers 40 years ago on March 16 in what has been notoriously known as the My Lai massacre.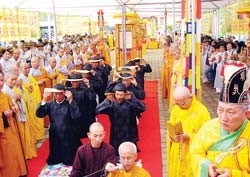 Monks pray in the largest requiem for My Lai victims so far

Thousands of Buddhist monks, local and foreign tourists and journalists including 40 Japanese survivors of the Hiroshima and Nagasaki atomic bombings burned incense and prayed for the murdered villagers between 7.30 am to 5pm outside a museum that has been erected to remember the victims.
An official memorial program is being held today.
The My Lai massacre took place in My Lai and My Khe hamlets during the Viet Nam War in which 504 innocent locals were shot to death, killed by grenades, or thrown into wells. Most of them were old people, women and children.
Related article
My Lai: Legacy of a Massacre