The traditional history book of the Headquarters of Cao Bang province Border Guard writes that by the dawn on February 17, 1979, H1 mobilized 30 divisions of nine major army corps, including over 600,000 troops with thousands of tanks, armors and cannons to groundlessly attack Vietnam along the entire northern border line from Phong Tho district in Lai Chau province to Mong Cai in Quang Ninh.

Along the border line in Cao Bang, H1 concentrated many divisions under three army corps 41, 42 and 50 with about 130,000 troops, 220 tanks, armors and 330 cannons simultaneously attacked border posts and border districts from Bao Lac to Thach An to encroach Cao Bang in the two main directions, eastern Ta Lung border gate and northern Soc Giang border gate.
Border posts Xuan Truong, Bo Gai, Soc Giang, Tong Cot, Tra Linh in Hung Quoc town; Ban Gioc commune in Trung Khanh district; Ly Van in Ly Quoc commune in Ha Lang district, Bi Ha in Thi Hoa commune of Ha Lang district and Ta Lung drastically fired against the attackers.
Within one month, soldiers of border posts struggled with the enemy, protected and evacuated residents.
In the morning on February 17, 1979, artillery force from the opposing side repeatedly fired Tra Linh border gate checkpoint. After an hour of fire, the enemy's ground forces divided into three directions of attack. At that time, 17 Vietnamese soldiers bravely struggled in many hours, killed 250 Chinese soldiers and hurt about hundred.
Because of huge force difference between the two sides, 16 Vietnamese soldiers were killed and one seriously injured.
At 179 Ta Lung Border Post, over 80 soldiers undauntedly fought against an infantry division supported by 50 tanks from 5 a.m. on February 17. The 14 hours long fight costed the lives of four soldiers and injured eight. In return, Ta Lung border post decimated over 200 enemies and destroyed four tanks. Taking advantage of the dark when the enemy slackened the siege, Vietnamese soldiers withdrew back to the rear to preserve their force.
After many days of fighting, the enemy was forced to withdraw. Still the fight left lots of heart-breaking evidences in the land of Cao Bang.
Tragic massacre
Sai Gon Giai Phong reporters arrived at Hung Dao commune, about 10 kilometers north of Cao Bang city. The commune center is now a rich area with spacious houses and tarmacked roads. Markets, schools and nursery schools are built close each other.
Receiving the reporters at the headquarers of Hung Dao commune People's Committee, chairman Hoang Quang Dung said that the commune has over 5,000 people, most of them are Tay and Nung ethnic minority groups and Kinh, the largest ethnic group in Vietnam.
The commune was recognized as a new rural commune last year. Locals basically do agriculture, some households have transferred from farming rice into high economic value fruits such as dragon fruit, orange and pomelo over large scale.
Looking at prosperous villages in the commune, a few people know that 40 years ago, the commune suffered a tragic tragedy in which 43 civilians, mostly women and children were killed and thrown into a well. Afterwards, a stele was built up in the well to commemorate the victims.
Chairman of the commune took Sai Gon Giai Phong reporters to look for the site. The first place they saw was the ivory bamboo hedge in Vo Duoi commune, Vinh Quang commune on the way to a pig farm where formerly victims of the massacre worked.
63 years old Hoang Van Phong in the commune told at the time of the massacre, he was working at Ta Lung border gate as the platoon leader under Battalion 2, Regiment 567. In the morning on February 17, he and comrades were waylaying at the border gate. When the enemy came, they directly hold the gun to fight.
Because of too thin force, they were surrounded and the entire unit must gradually move back to Quang Uyen and Khau Chi mountain pass. After a 12 day stand to prevent the enemy from entering Cao Bang city, they were successful forcing the enemy to retreat on March 2, 1979.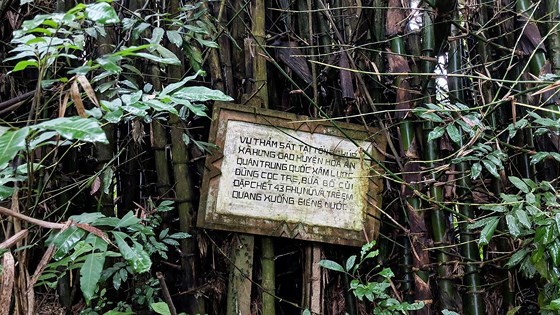 The stele built at Na Luong hamlet, Hung Dao commune, Cao Bang city to commemorate victims of the massacre by Chinese troops in 1979
After the invaders withdrew, Mr. Phong returned home to visit his parents and saw all houses and villages there were devastated by the enemy. He was told that the enemies arrived at Vinh Quang commune at the same time when a group of female workers of the pig farm ran away. The Chinese troops arrested the workers and kept them at a resident's house in Cao Binh crossroads in the commune, one kilometer from his house.
Following Na Luong hamlet in the commune in the middle of Ho Chi Minh Highway and Na Luong spring, Sai Gon Giai Phong reporters met Mr. Lo Ich Toan, a Tay ethnic minority man who is one of witnesses spotting the death bodies of the workers in the well. Mr. Toan is the person who took delegations of jounalists from the United Kingdom, Germany, Japan, South Korea and Australia to the well to record the crime a few days after the war ended.
According to Mr. Toan, the invaders came from Soc Giang border gate with the aim of joining force with a troop direction from Ta Lung border gate in Cao Bang city to encroach the entire province. That year he was 20. When the enemy came, most of people in the commune had evacuated to Ngan Son district in Bac Kan province. Toan and other militias struggled with the enemy in Hoa An district five kilometers from his house.

Ten days after the enemy retreated, he and people in the commune returned home and those in Na Luong hamlet saw their houses burnt down, his house was also in the same destiny. They were more stunned finding decomposing bodies pied up in the well, digged by Vietnamese soldiers in 1978 when they stationed by Na Luong spring. Those killed were of the workers from the pig farm.
Mr. Toan said that the massacre took place on March 2, 1979 right before Chinese soldiers withdrew out of Vietnam.

A few years later, Mr. Toan continued setting off to do new mission at an amor tank battalion. After returning from military service, he came back his hometown to grow rice. Currently, he is in charge of agro-forestry-traffic-irrrigation in Hung Dao commune.