Malaysia's Star newspaper has recently reported the squalid conditions in which 42 Vietnamese female labourers are living in a small house in Jalantull in George Town in Penang.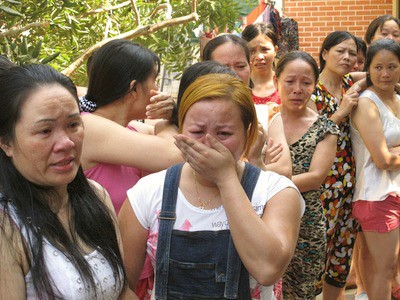 All of the women want to return home
Most of them are 30 to 50-years-old and cannot return to Vietnam as their visas have expired.
The pathetic condition of these women was discovered by a neighbour, who was being disturbed at nights from loud noises coming from the adjoining house where these guest workers were living.
One woman named Hai said that most of the women were without jobs and were undergoing great hardships. They cannot also send remittance back to their families in Vietnam.
Some worked as cleaners in hospitals and were paid 50 Malaysian ringgit per day which was later reduced to only 25 ringgit.
Besides the low pay, the Malaysian employers even owed wages of these Vietnamese female labourers, and gave then only rice and salt to eat.
Due to such poor living conditions some labourers are seriously ill. All of them want to return home and have asked the Vietnamese Embassy in Malaysia for help.
Before leaving Vietnam, these women hoped their relatives would benefit from remittance they would send back after working abroad.
During the last five years, tens of hundreds of Vietnamese people had gone to work abroad. A local villager can earn about VND10-15 million (US$476-714) each month if he or she finds work overseas.
Local authorities and labour export companies have also been helping people access more information about working abroad, a way to escape poverty.
Most of the workers go to work in Malaysia, South Korea, Taiwan (China), Japan and Russia.
The police are expanding their investigation to track down others involved in similar case of abandonment as the above mentioned labourers.
Meanwhile, Vietnamese police are investigating a case in which a Vietnamese woman and a Malaysian man had attempted to send Vietnamese women to Malaysia to work in night clubs and brothels.
Police in the southern province of Bac Lieu yesterday said they were questioning Vo Thanh Nga, 28, from Vinh Long Province and her Malaysian boyfriend Hiau Yoon Kong, 34, for hatching a scheme to send women to Malaysia on a tourist visa but actually to work as potential sex workers.
Last Saturday, after receiving a tip-off on the ring's activities, the police and their counterparts from the criminal investigation police department under the Ministry of Public Security, disrupted a plan at the HCMC Tan Son Nhat Airport, where Nga and Hiau were guiding nine women through customs check in an attempt to leave Vietnam.