A 4-year-old boy was burnt to death in a fire at a gas station in Go Vap District in Ho Chi Minh City yesterday afternoon, May 21.
The boy named Vu Manh Duy, was sleeping inside the store of the gas station, when the fire occurred at 3.30pm yesterday. The gas station on 4/34 Nguyen Oanh Street in Ward 17 of Go Vap District was at that time replenishing its petrol tank from the delivery truck.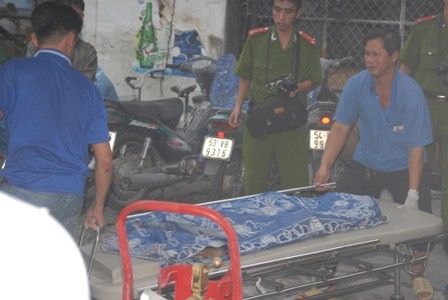 The body of Duy is brought out of the store (Photo: VNExpress)
Due to carelessness, the driver let the petrol flow out of the tank onto the road in front. Suddenly loud explosions were heard and the fire spread rapidly across the gas station and to a nearby store, where the two children were taking shelter against the rain, said witnesses.
Nguyen Thi Luu, 29, the pavement café owner and resident of Northern Bac Giang Province, managed to run out with her 2-year-old baby in her arm. However, she did not get enough time to safe Duy as the store was soon engulfed in flames.
The fire caused panic amongst local residents and passers-by, many of who tried to stamp out the fire with fire extinguishers but failed in their attempt.
The fire also burnt several motorbikes parked at the station before firefighters of the Police of Go Vap District arrived at the scene. Luckily, the adjacent petrol tank did not catch fire or the damage would have been much more.
The overflow of petrol might have caught fire from a burning cigarette or from sparks emitted from the engine of a vehicle running on the street at that time.
The police are investigating the cause of the fire.