Vietnamese police on Monday detained 27 Chinese, 28 Taiwanese and two Vietnamese in the central province of Phu Yen for involvements in trans-national crimes.
The police on Monday morning raided five accommodation places in Tuy Hoa City in the province, finding lots of information technology equipment used by the people for trans-national fraud.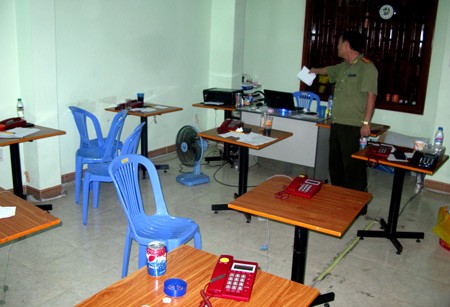 A Vietnamese police officer inspects a crime site used by the gang in Tuy Hoa City, Phu Yen Province on September 5, 2011 (Photo: Sai Gon Giai Phong)
The detained devices included 14 laptops, 108 landline telephones, 14 mobile phones, 13 walkie-talkies, 25 Internet cable lines, 14 Internet gates, wireless devices, many computer keyboards and a printer.
The police found most of the equipment at a newly built house on Hung Vuong Boulevard in Tuy Hoa, not yet having a house number, owned by the boss of the Sinh Hien Hotel in the city.
All instruction documents for the devices are in Chinese.
According to the General Department of Security, the Vietnamese Ministry of Public Security, the people have used Internet talk to contact people of Chinese origin all over the world. They said they were authorities of Vietnam, China, Taiwan, Korea and so on to force their victims to tell them their account numbers. Then they drew money from the accounts.