At least 6 persons were killed, among them there are two children, and 4 were in serious conditions following a vehicle accident on national highway 1A this morning.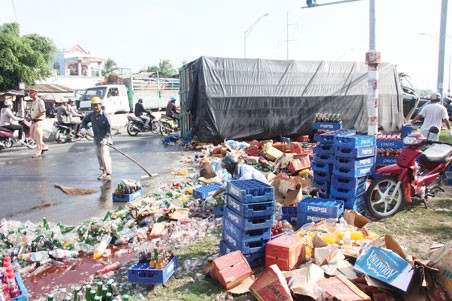 The truck flipped horizontally after the acciden that killed 6 and injured 4 on highway 1A on Saturday. Photo: SGGP
The accident occurred at 5:30 am in Long An province section of the national highway and stopped traffic for hours.
Witnesses said that a truck carrying Pepsi bottles on the way from Ho Chi Minh City suddenly collided with a concrete block of the separator that was previously knocked out by another vehicle.
Truck driver lost control and run out its line, crashing into a 16 -seat bus on the way from Can Tho, killing 6 and injuring 4 in the bus. The truck turned back and flipped horizontally while the bus was broken.
People who live along the highway rescued alive and helped them hospitalize. Some of passengers were in critical conditions were carried to Cho Ray hospital in Ho Chi Minh City, 60km far from Long An province.
Bus driver is among the dead. Remain victims are relatives in a family, that hired the bus to go to Long An for saying goodbye to their relatives who will leave for the US tomorrow.