According to a report of the National Assembly's Economic and Budgetary Committee, Viet Nam's economic growth rate over the past months is higher than schedule; however, the quality of growth sees no radical changes compared with the last year.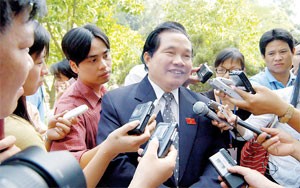 Mr. Tao Huu Phung answers the press during the break of the 11th-tenure National Assembly's 10th session in Ha Noi on Oct 17 

Talking with SGGP reporter about this, Vice Head of the committee Tao Huu Phung said the additional value of many sectors is still the same or even lower than 2005, while capital, not increased labor capacity or savings, makes up 60 percent of GDP growth.

He admitted it was a paradox when capital increases but economic effectiveness decreases, and explained it was due to squander and cumbersome system.

To increase the competitiveness of a healthy economy, there should be comprehensive solutions, he added.
The government should invest more in key industries and innovation of advanced technology, and it is imperative great business corporations should be established in agricultural economic industry in the wake of WTO entry, he said.