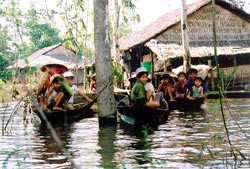 People live with flood
The 60th anniversary of President Ho Chi Minh signing the decree founding Central Committee of Dyke Maintenance, which is now Central Committee for Flood and Storm Control (CCFSC) (May 22, 1946 – May 22, 2006), was held by the Ministry of Agriculture and Rural Development and the CCFSC in Ha Noi on May 22, 2006.
Attending the anniversary, Deputy Prime Minister Nguyen Tan Dzung stressed that Viet Nam has to face with toughly natural disasters due to its geographical position.
Therefore, in order to minimize damages caused by disasters and to develop the stability of the country's socio-economy, all levels of government's agencies have to be proactively prepared for disasters, effectively overcoming damages caused by disasters.
Particularly, they have to focus on 4 main tasks: strengthening the dyke system, water reservoir, storm and flood controlling works; building safe ports and traffic system; afforesting protective grove upstream; improving the weather forecast capability, added Mr. Nguyen Tan Dzung.