The Ministry of Agriculture and Rural Development last night hosted a ceremony to honor 63 outstanding farmers from 63 provinces and cities in the country.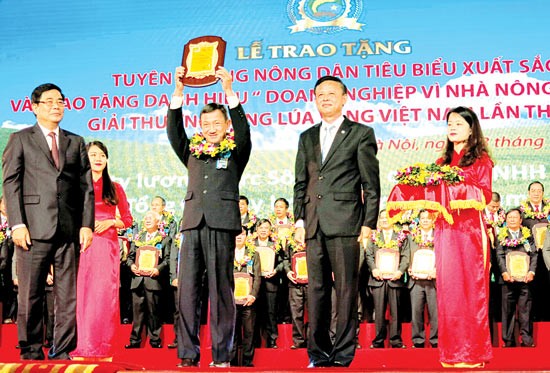 Awarded teams and individuals at the ceremony (Photo: SGGP)
They were awarded for overcoming difficulties to increase household income, building creative production models, and applying advanced science and technologies. 
On this occasion, the ministry awarded the prize 'Gold Rice Flower' to 80 teams and individuals for their outstanding products which have contributed to the country's agricultural and rural development, and granted the title 'Businesses for Farmers' to 100 companies with big contribution to the cause. 
Stating at the ceremony, Deputy Prime Minister Hoang Trung Hai congratulated and praised the awarded farmers, teams and businesses. 
He required the Ministry of Agriculture and Rural Development to expand good and creative production modals and intensify the connectivity among farmers, scientists and businesses.