The State Council for Professor Title in Vietnam held a solemn ceremony in Hanoi's Van Mieu Quoc Tu Giam- the Temple of Literature on Febuary 4 to grant professorship and associate- professorship certificates to 644 lecturers, who get outstanding achievements last year.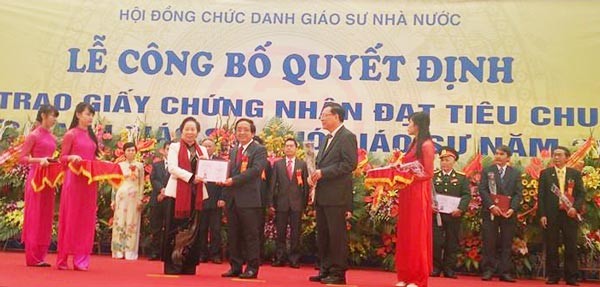 State Vice President Nguyen Thi Doan offers certificates to professors, associate professors. (Photo:SGGP)
At the honoring ceremony, Prof. Tran Van Nhung, General Secretary of the State Council for Professor Title in Vietnam said that there were 822 teacher's profiles registered for the titles of professor and associate professor. Finally, 59 teachers were recognized as professors and 585- associate professors.
Phan Thanh Son Nam, 36 years old lecturer from Vietnam National University in Ho Chi Minh City, was the youngest professor and Le Ngoc Canh, 81 years old, former lecturer of the Hanoi National University of Art Education was honored as the oldest professor at the ceremony.
Vu Tu Lan, 82 years old, and Tu Trung Kien, Hoang Quy Tinh, 34 years old, were recognized as the oldest and youngest associate professors at the ceremony.