At least 82 people died, of which 16 are still missing and ten million people were affected by typhoon damage and floods in Viet Nam, said the Central Committee for Flood and Storm Control and the Red Cross yesterday.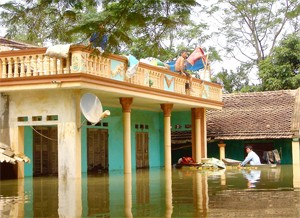 Residents in Thach Thanh District of Thanh Hoa Province live in polluted water. (Photo: SGGP)
The majority of the victims were from the provinces of Nghe An and Thanh Hoa.
The disaster injured 126 people and leveled 6,096 houses, leaving 75,174 in need of help. A lot of people were displaced twice.
Flooding also left 152,093 hectares of fields and farms completely destroyed.
The damage is estimated at more than VND 1,000 billion (US$63 million).
To help local authorities and residents overcome their difficulties, the Vietnam Fatherland Front Central Committee delivered VND 1.4 billion to the affected provinces.
Yesterday, the American Embassy in Viet Nam declared that they would donate US $100,000 to assist in relief efforts.
The Central Hydrometeorology Forecast Center informed citizens that the water level in several rivers is currently in a rising trend, possibly contributing to additional flooding problems.