Deputy chairman of the Ho Chi Minh City People's Committee Le Van Khoa has approved to continue the Binh Trieu 2 Bridge project under BOT (Build-Operate-Transfer) form with the total funds of VND1,986 billion (US$89 million), announced the committee office yesterday.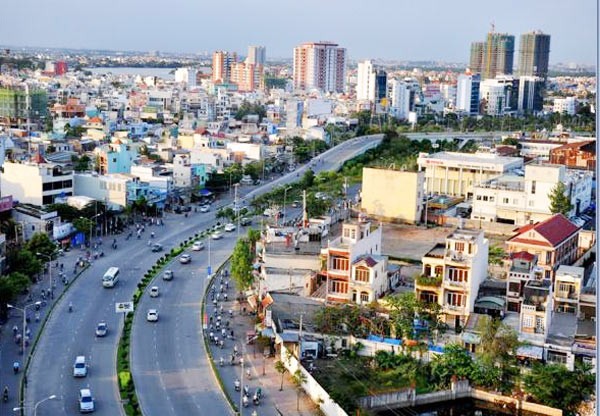 Binh Thanh district in the northeastern gateway of HCMC (Photo: SGGP)
The Binh Trieu 2 Bridge is a key project to solve and reduce traffic jam and accidents in the northeastern gateway of HCMC, said the Department of Transport.
 
The project will comprise seven sub projects to broaden Ong Dau Bridge in Highway 13; build an intersection of Bach Dang, Dinh Bo Linh, Xo Viet Nghe Tinh, Nguyen Xi streets and Highway 13; upgrade Chu Van An and other adjacent streets to connect with the intersection; enlarge 1.8-kilometer Ung Van Khiem street.
 
Investor HCMC Infrastructure Investment Joint Stock Company (CII) is expected to build two tollbooths at Binh Trieu 1 and Binh Trieu 2 bridges to reclaim investment capital within 23 years and nine months.
 
The city People's Committee asked CII to carefully study and rationalize its capital recovery measure to prevent complaints later on, the People's Committees of Binh Thanh and Thu Duc districts to closely work together with the company to conduct site clearance for the project.
 
The Binh Trieu 2 Bridge project has passed many phases of investment. The latest phase was invested by Civil Engineering Construction Corporation No.5 (Cienco5). After starting work in 2000, the company built and opened to traffic some items three years later, for instance Binh Trieu 2 Bridge and some streets broadened around Mien Dong coach station.
In 2004, Cienco5 organized one way toll collection at the bridge and was unaffordable for continuing the project because of high increase in site clearance cost.
 
Hence, the Prime Minister has approved HCMC to terminate BOT contract with Cienco5 and adjust the second phase of the project.
 
The city People's Committee has made some adjustments with the new investor being CII, who has refunded all costs that Cienco5 had spent on the project, taken over its toll collection and continue building other items.