In two separate accidents on November 22, a bus and a truck collided with trains, killing nine people and injuring 10 others.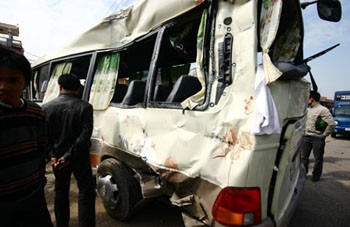 The bus BKS 30S-2371 is out of shape after colliding with the train TN1 in Hanoi November 22 (Photo: VnExpress)
In Hanoi's Thuong Tin District, a 30-seat bus was hit by train TN1 going from the capital to Ho Chi Minh City, killing seven people on the bus and an unfortunate motorcyclist who happened to be in the vicinity of the accident.
The impact flung the bus on his motorcycle.
The railway authorities and local residents took the 10 injured people to Thuong Tin Hospital.
The Hanoi police said the bus driver carelessly crossed the track and caused the accident.
In the central province of Phu Yen, a truck crashed into train SE 7953, which was also traveling from Hanoi to HCMC. The truck was totaled and its 37-year-old driver was killed instantly.