The Lam Dong water supply company asked permission from Da Lat City's government yesterday to use water in Xuan Huong Lake to produce tap water.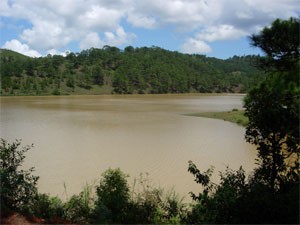 Suoi Vang Lake in Da Lat City. The water supply company located at the lake is currently not operational (Photo: Thuy Hang)
Tests carried out on the lake's water, however, showed that it is not fit for use as tap water due to the presence of a poisonous form of Cyanobacteria.
The Dan Kia – Suoi Vang water supply company, meanwhile, is currently not operational due to an ongoing power failure and a completely dry Chien Thang Lake has forced the Than Tho water supply company to close.
Of the 10 percent of households in Da Lat City that do have clean water available to them, most are in the downtown area, said Tran Dinh Lanh, Director of the Lam Dong Water Supply Company.