Ninety-six long-tailed macaque monkeys (Macaca fascicularis) will undergo health checks and be released into the wild on January 15 if no animal rescue center agrees to take care of them, said Tuy Hoa of the Town Forest Ranger Agency on January 8.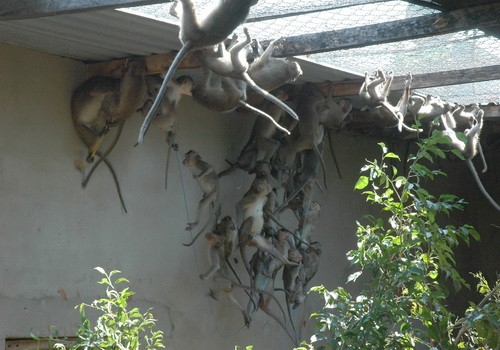 Monkeys are kept at Tuan's wildlife farm. (Photo: Tuoi Tre)
Senior Lieutenant Colonel Le Duc Hoan from the Tuy Hoa police said authorities seized the monkeys from a vehicle that was transporting them from Phu Yen Province's capital to the north on January 2.
Driver Trinh Xuan Huy, 35, turned himself in to police fleeing the scene.
The monkeys are currently being housed at a wildlife farm belonging to Le Thanh Tuan in Dong Hoa District, Phu Yen Province. Tuan purchased the monkeys January 4 for VND31 million (US$1,700).
The Forest Ranger Agency has said it will reimburse Tuan.
Also on January 8, Ha Tinh police stopped a car carrying nearly 20 monkeys and weasels weighing around 100 kilograms on National Highway 1A.
Driver Phan Duy Ngan, 40, said the animals were being transported to Vinh City, Nghe An Province to sell.
Police also are continuing to investigate.