The joyful laughs of local residents greeted us at Sinh Ton Island, part of Truong Sa (Spartly) archipelago, as we arrived early this month.

Us SGGP journalists were traveling with a Ho Chi Minh City Party and Government delegation.

Appropriately named Sinh Ton (Life and Existence), our port of arrival was a tiny, remote island, but filled with life and vitality in the children's faces and their radiant smiles.

Sinh Ton is small, but it's bustling, with energetic locals and sailors from the Navy going about their everyday lives: visiting the market, going to school, chatting and drinking coffee.

This otherwise unnoticeable island was clearly and oasis of the human spirit in the middle of the wide open, vast and daunting immensity of the East Sea.

Stability

Bui Dinh Khai, 27, the youngest head of household on the island, was watching a music and art show that was held to welcome the delegation when we spoke with him.

The father of two children lives with his family in a 90 square meter house that has a living room, two bedrooms, a kitchen and a toilet.

The house has a base where a tank collects rainwater, which was pumped up to another tank fixed on the roof to be used for daily living activities.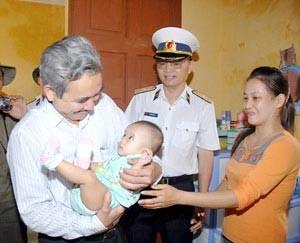 Deputy chairman of the HCMC People's Committee Nguyen Trung Tin holds baby Bui Hoang Nha Ky, the youngest resident on Sinh Ton Island, during a recent visit trip to the Truong Sa (Spratly) archipelago. (Photo: SGGP)
In front of the house is a small garden, about 30 square meters, where chickens are raised in cages.

Originally from the city of Nha Trang in Khanh Hoa Province, central Vietnam's beach capital, Khai was married in 2006, when he was 23 years old. A year later, the couple had their first child.

"In Nha Trang, we had to rent a house. I worked for the ward military unit, earning just more than VND500,000 (now US$26.3) per month, while my wife did odd jobs. Our live was deprived, for sure," he said.

Khai was always preoccupied, trying think of a way to provide a better future for his family. Then his big chance camel: his family was among the first 20 families selected to settle parts of the Truong Sa islands.

Khai and his family first set foot on Sinh Ton on April 9, 2008.

With no experience farming or fishing, Khai started his new life learning form other local farmers to grow vegetables as a way to make a living.

Unlike Song Tu Tay and Truong Sa Lon islands, Sinh Ton has no freshwater source, so farmers lives are more difficult as they're dependent on freshwater form other places.

Still, Khai and many other new residents have overcome such obstacles create thriving businesses.

"I now know how to grow 10 kinds of vegetables, including difficult ones, like cucumber, pumpkin and squash," he said.

He has also learned how to fish to supplement his family's income. After just a few months in his new home, Khai is now a skilled fisherman and can easily support his family.

Khai's success story is just one of many we encountered during our trip to the island.

High hopes

Like many of Truong Sa's other islands, Sinh Ton is endowed with abundant marine resources and diverse coral ranges around the island shore that are home to pricey sea animals, like abalone, holothurians, and sea-urchins.

Ho Van Hien, one of the most-experienced fishermen on the island, said: "You can see a lot of sea animals here: cuttlefish, shellfish, crabs, and other fish."

"With good equipment, you can bring in huge catches," he said.

He said he once caught a fish weighing more than 50 kg.

Rear Admiral Le Van Dao, Deputy Commander of the Vietnam People's Navy, said that developing the fishery industry on the island was one of the most important concerns for the Truong Sa islands.

Some aquaculture projects are being developed here, he said, and some fishing ports and dry docks are under construction to boost the industry.

"In Truong Sa, tourism and fishing can bee seen as two spearhead economic sectors, which will boost the archipelago's social and economic development."

To facilitate such development, industrial electricity supply is our most important concern. The Navy has placed an order with the HCMC Department of Science and Technology to conduct research on it.