For 15 years, the Sai Gon Giai Phong's editorial staff has often welcomed Mr. Ho Dai Phuoc into their offices, a familiar reader who has often contributed to the newspaper's charity fund for the maintenance of President Ho Chi Minh's mausoleum.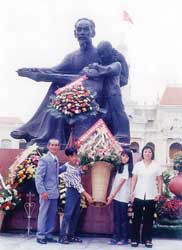 Mr.Phuoc (L) and his family offer flowers to Uncle Ho's stone statue in HCMC.
Mr. Phuoc and his family annually offer flowers to Uncle Ho's stone statue on Nguyen Hue Street, in Ho Chi Minh City in the early mornings of May 19, Uncle Ho's birthday.
Mr Phuoc was born and grew up in the revolutionary cradle. His father was a revolutionary fighter who faced dangers during wartime, fighting with body and soul for his beloved homeland. His young brother was a revolutionary martyr who died in 1966.
"Thanks to Uncle Ho and heroic martyrs who sacrificed their lives and struggled for independence and freedom, we are now living in peace, happiness and prosperity. To pay homage to their merit, we must live lives of decency and have love for our country", he said.