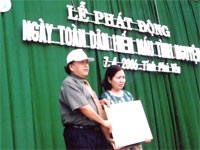 Ms. Ly Thi Kim Thinh at the ceremony
Prime Minister Phan Van Khai 's certificate of merit was issued to Ms. Ly Thi Kim Thinh for her blood donation in over 27 years.
Ms. Thinh, 49, is a shopkeeper in Ward 15, Tuy Hoa City in Phu Yen Province.
She has given blood 54 times, saving lots of people in critical conditions.
Ms Thinh received a congratulatory letter and a VND5 million reward by President Tran Duc Luong two years ago for her humanitarian behavior.
All her rewards and nominal compensations after each donation were contributed to social activities in the locality.
The award ceremony was held on April 7, 2006.