The 12th National Assembly Elections have achieved great success. Over 99% of the nation's eligible voters went to the polls to elect new Assembly members.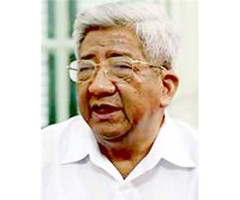 Mr. Pham The Duyet
"I'm really happy with the success of the election. Only a small number of non-resident voters didn't make it to the polls. Most people took the polls seriously and carried out their civic duties. Despite heavy rains, many places had voter turnout rates as high as 98 percent. We will select 500 deputies from among 875 candidates for the 12th National Assembly," said Mr. Pham The Duyet, Chairman of the Vietnam Fatherland Front and Deputy Head of the Election Council.
The voters showed their great concerns as responsibility-conscious citizens. They had many options to choose from as to who will represent them in the new National Assembly. Candidates who receive more than half of the regular votes are elected. If candidates capture the same number of votes, the elder will be elected, he added.
After the polls, local election councils in cities and provinces nationwide must submit election results to the national Election Council within 7 days. In case of supplementary voting or re-elections, results will be made public 20 days later.
Related articles:
HCMC Voters Take NA Elections Seriously
Over 99% of Voters Cast Ballots