Sai Gon Giai Phong Newspaper yesterday hosted an inaugural ceremony for a new health clinic, for the poor ethnic minority people of Dan Lai in the Bung mountain village of Mon Son Commune in Con Cuong District of Nghe An Province.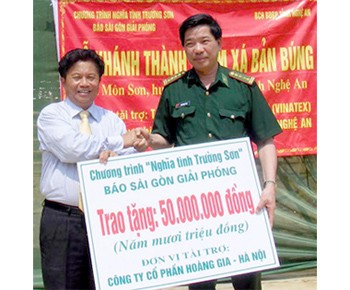 SGGP editor-in-chief Tran The Tuyen (L) presents VND50 million for the Dan Lai ethnic group to buy rice (Photo: SGGP)
SGGP jointly hosted the ceremony in coordination with the border soldier forces of the northern central province, as part of the program 'Nghia Tinh Truong Son' (Sentimental attachment for Truong Son Road).
Construction began on the health clinic last November at a total cost of VND1 billion (US$48,000), financed by the Vietnam Textile and Garment Group (Vinatex).
Tran The Tuyen, editor-in-chief of Sai Gon Giai Phong and head of the organization board of the 'Nghia Tinh Truong Son' program, said that this was not only a place for health checks and treatment but also for engaging in cultural activities of the Dan Lai people and the border soldiers.
Bung mountain village has 87 households with 493 people who face a great deal of stress when anyone of them falls ill as they have to travel by boats for at least three hours before they can reach the nearest health clinic.
On this occasion, the Hanoi-based Hoang Anh Company donated VND50 million (US$2,300) to the villagers to buy rice. The Dai Dung mechanical and electrical company from HCMC presented the border post 555 with two motor boats, worth VND30 million each and the Vinatex group presented 100 gifts to the villagers.