A stroll around Ho Chi Minh City's backpacker quarter will give you a glimpse of the various services that have sprung up to cater to everyday needs of a foreign traveler.
Located in District 1, the quarter is comprised of three main streets, namely Pham Ngu Lao, Bui Vien and De Tham and is famous for "swap books" or "swap CD's and DVD's" stores. Here, foreign tourists here can exchange two books or two CDs for one. They have to pay a little extra if they want to exchange one for one.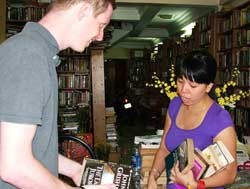 A secondhand bookstore where foreigners can swap books
Locals operating these shops gradually accumulated such items brought from abroad and sell them back to other foreigners who don't have anything to swap.
At a big secondhand bookstore on 179 Pham Ngu Lao Street, shopkeeper Vo Van Tri told Sai Gon Giai Phong that he has accumulated 10,000 foreign books including guide books, novels, and those on religious and business subjects. The most expensive are guide books which he is offering at US$10-12 each.
Newspapers in English, French, Japanese and German are also for sale in the vicinity. There are also vendors strolling the streets to offer the latest, most popular and pirated books including the Harry Potter series and "The Da Vinci Code".
Just one day after the book "Harry Potter and the Deathly Hallows" was released worldwide, vendors walked around, offering a photocopied version of the book for a mere VND100,000 ($6.25). Days later, the price dropped to VND60,000.
Some time ago, when Sai Gon Giai Phong approached a small local girl about 10 years of age lugging a huge pile of books and asked for Dan Brown, the girl's eyes brightened. Mistaking the journalist for a tourist, she immediately replied in good English "I have four Dan Brown".
The girl told the journalist to wait, and ran into a small alley. After some minutes, she appeared again with four novels written by Dan Brown. She offered them for VND80,000 each but following a short bargain, the price was driven to VND60,000 per copy. Apart from print in the copied books being not as sharp as the originals, the differences are hard to spot.
Six cents per time checking email
Capitalizing on backpackers' needs to check emails, which generally take less than 10 minutes, many rooms in hotels, concessionary stores and shops have been charging just VND1,000 (6 cents) for accessing the Internet for 10 minutes. If printing is required, the price is VND1,000 to print one page.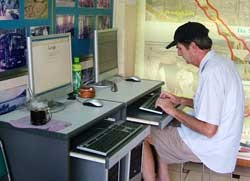 Checking emails for only VND1,000
Also on offer are an abundance of DVD movies. As with the books, the movies are also pirated and go for only VND13,000-15,000 (up to US$0.9) each. The latest movies are available including "Pirates of the Caribbean: At World's End".
There are some local movie directors walking around this area to recruit foreigners for their next project. For Phuong, who is known here as Phuong the director although he knows nothing of cinematography, his purpose is to find suitable foreigners to star in Vietnamese-made films for a commission. His success is due to his good English.
"They are generally happy when being invited to take part in a movie", Phuong told Sai Gon Giai Phong.
While street-side shops and service centers charge reasonably, the businesses in the areas alleyways too find profits by offering cheap drinks and accommodation. At a coffee house in an alley to Bui Vien Street, owner Nguyen Thi Hoa, 65 years old said since foreigners started to converge in this area, turning it into the backpackers' quarter, local lifestyles have changed dramatically".
"Many people have become rich by opening services for foreigners. The young people can work for tourist companies, hotels, and for those as old as me, can sell coffee, cigarettes to pocket a dozen thousand dong a day", she added. Here, a glass of iced coffee costs only VND3,000 while a dish of rice with ham no less than VND10,000 (62 cents).
Ms. Hong, who runs a cheap 'restaurant' said that foreigners eat what the Vietnamese eat, from rice, pho [soup noodles], bun [soupless Vermicelli], and mi quang [soupless noodles].
In those alleys, there are numerous unnamed hotels offering very cheap accommodation at only US$2-3 per person per night. Such 'hotels' are in fact private houses which have some spare rooms to let.
"Since prices are cheap, foreigners never bargain. They are very friendly, humorous, and kind…are curious to explore Vietnamese culture, and disputes rarely occur between foreigners and locals", residents report.
In addition, the alley shops supply the small, everyday items that foreigners require which large street-side stores sometimes do not have like combs, toothbrushes, toothpaste, razors, soap, or towels.