The Britain-based Association of Chartered Certified Accountants (ACCA) has made Prof. Dr. Vuong Dinh Hue, Vietnam's Finance Minister, an honorary member for his contributions to the development of the accounting profession in the country.

ACCA President Dean Westcott presented the honor to Prof. Dr. Hue in Hanoi October 9.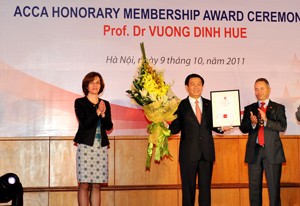 Vietnamese Finance Minister Vuong Dinh Hue (C) receives his ACCA honorary membership in Hanoi October 9, 2011. (Photo: My Tran)

This is the sixth time this award has been given since 1999.

"ACCA's Council took the decision in 1999 to award honorary membership to truly exceptional individuals who have played a pivotal role in the international development of the accountancy profession," Dean Westcott said in a statement.

"Professor Doctor Vuong Dinh Hue has been playing an active role in supporting the accounting teaching and learning, committing part of his precious time to improve the workforce quality in finance and achieve the target of 'internationalizing' the auditing manpower in Vietnam," he added.

"For five years he chaired as Auditor General – State Audit of Vietnam, he has enabled to gain important prestige and greater trust as State Audit builds up a transparent, sound and sustained national finances, providing efficient contributions to national industrialization and modernization, and international integration."

Mr. Hue said, "I'm delighted to accept this award. ACCA has been a strong supporter of the accounting and auditing profession in Vietnam. I admire what ACCA has achieved over the years, developing its business all over the world. The emerging markets have benefited from ACCA's training and qualifications given to students.

"ACCA has provided technical assistance to Vietnam, including sending consultants to help develop laws and legislative regulations for the management of the accountancy and auditing career in Vietnam, organizing professional workshops and knowledge update opportunities facilitated by international experts and industry professionals. We look forward to their continuing support in the challenges ahead," the Vietnamese Finance Minister said in Sunday's announcement.

The Association of Chartered Certified Accountants is the global body for professional accountants.